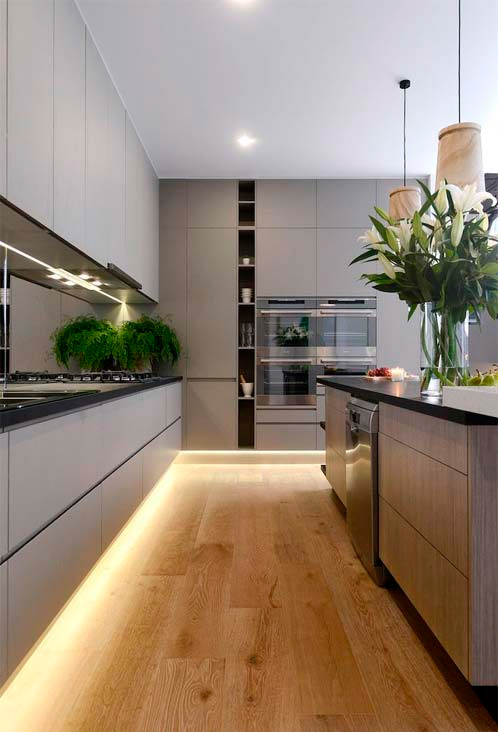 If you were asked what you'd like to see in your dream kitchen, you'd probably have a bunch of ideas ready to share. Safety, however, may not be the first thing on the list. It is important though so here are some design ideas to help you start thinking about safety right from the beginning:
Sturdy and reliable fuel sources
Get regular professional inspections of all connections from the gas line to the electrical wiring. This is to ensure that there are no gas leakages and that the electrical sockets are all up to code.
Clear and efficient workflow
Take some time to carefully design your kitchen layout so that the traffic between each element is direct and hazard-free. Neglecting the kitchen workflow design is one of the common kitchen renovation mistakes to avoid.
Rounded and slip-resistant finishes
This is all about eliminating slippery surfaces and sharp edges. So besides getting the ideal flooring type for the kitchen, choose rugged or textured surface finishes that make it slip-resistant. You'll also want to make sure the countertop has rounded edges and corners to minimize harm when bumping into them.
Bright and even lighting
You definitely want the kitchen to be well-lit with multiple sources of lighting so that there aren't dim spots anywhere around your stove and food preparation areas. In an environment where there are plenty of hot and sharp objects, a bright kitchen can easily prevent the risk of careless injuries resulting from poor lighting.
Fire and smoke safety
Again, professional inspection is regularly needed for safety devices like fire extinguishers and smoke detectors. It's essential that you ensure the inspections are up-to-date. If you want an extra level of safety, consult with the inspectors on whether an emergency sprinkler system above your range is right for you.
As for the fire extinguisher, find an obvious and safe location to store it. Keep in mind though that you should never use the fire extinguisher on grease fires – these kinds of fires are best put out by baking soda. It's a good idea to keep a bucket of baking soda next to your fire extinguisher (so that you don't grab the wrong thing in case of a grease fire).
With the kitchen being one of the busiest rooms of the house, it makes sense that it's designed for safety as well as functionality.