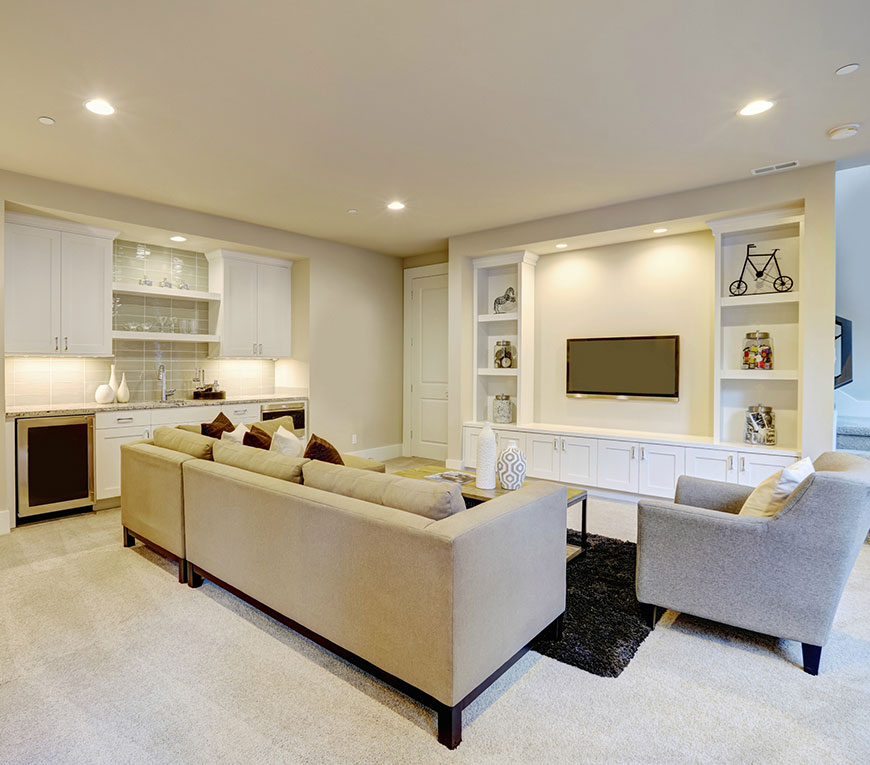 Whether you need basement finishing, an in-law suite or a home theatre, you can count on the home improvement experts at Premier Group Contractors to take care of your needs for basement renovations. Since 1998, we've been committed to exceeding our customers' expectations by providing top-notch customer service and impeccable craftsmanship.
This is only one of many reasons that we've become one of Mississauga and Southern Ontario's most trusted home improvement companies. Our customer service commitment is beyond comparison in this industry. We stand behind all our work with 5-year warranties. Our goal is 110% customer satisfaction and we strive for perfection on every project we do.
Premier Group Contractors will come to your home to discuss your remodeling needs. We will help you decide on the styles and options you want, and we'll provide a free, no-obligation estimate based on the measurements we take. Once your project is completed, you can enjoy it with complete confidence and peace of mind.
Contact us today for a free in-home estimate.
The Ultimate Guide to Basement Renovations
One of the sure-fire ways you can boost your home value is through basement renovations. It can seem like a daunting project though, especially for those who have always thought of their basements as that "dark storage area with the rickety stairs".
That's why we've put together this ultimate guide to answer the biggest questions people frequently ask about basement renovations:
How much should basement renovations cost?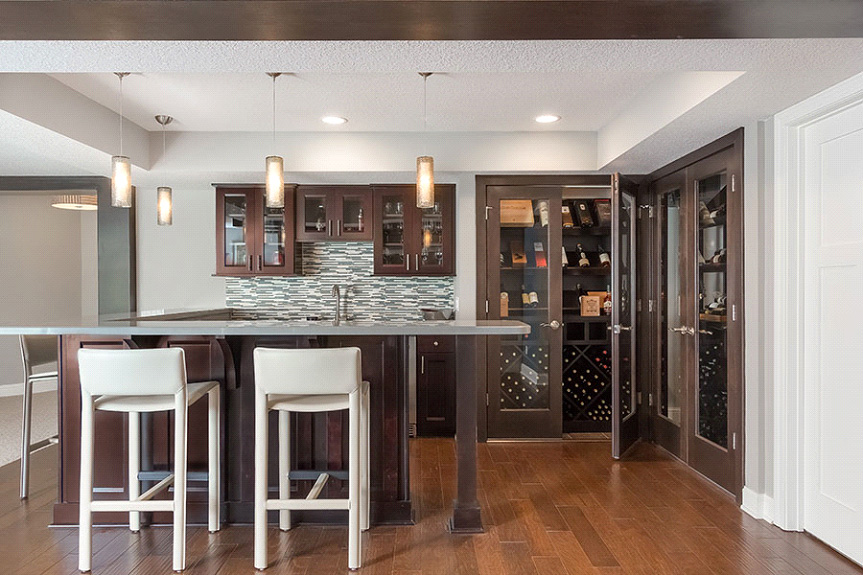 Depending on the basement size and construction materials, basement renovation costs can range from $35 – $70 per square foot. This would include the costs of design, labor, and materials for the whole basement renovation.
If you want to partition the basement into specific purpose-built rooms (such as with a guest or in-law suite), those would be extra tacked on to the overall cost. For example, you can expect to add $5,000 – $8,000 for a bathroom and $10,000 – $12,000 for a kitchen.
The renovation costs will also increase with additional special features. A larger staircase will cost about an extra $2,000 while a fireplace will cost at least $5,000 – $6,000. For a bespoke wet bar, you're looking at an increased cost of around $10,000.
At the end of the day, everything hinges on what you're looking for in your finished basement. Exploring all the options and costs with you is something we're glad to do.
Contact us to request a free basement renovation quote!
How do I plan a basement renovation?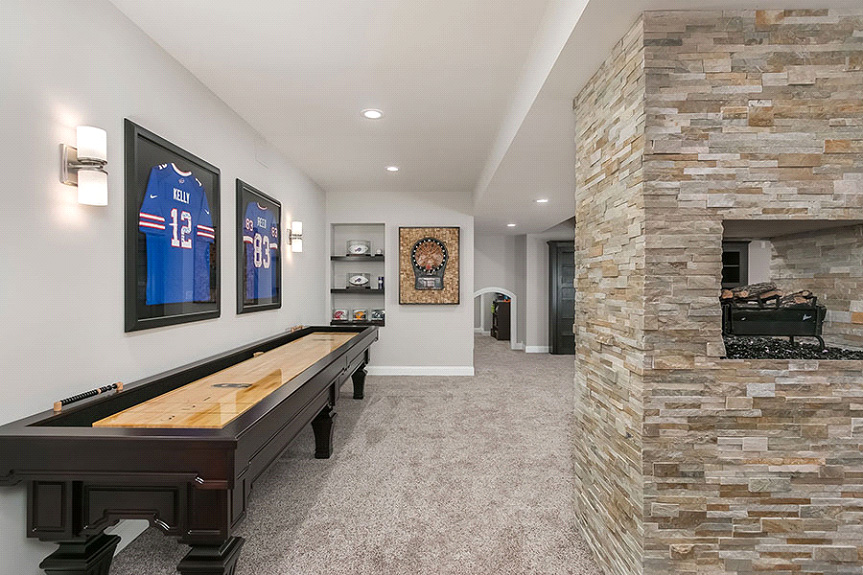 Budgeting plan
First of all, you need to come up with a budgeting plan. Even though you know how much a basement renovation roughly costs, expect the final costs to fluctuate based on the project circumstances and your personal preferences. Because of this, make sure you know exactly what you want.
It's a great idea to write down your renovation goals and group them into a "Top-Priority Features" list and a "Nice-to-Have Features" list. That way, you can make decisions in a snap if you have to adjust your budget.
With your renovation wishlist in hand, it's time to get some quotes from local general contracting companies and compare them. Be sure to ask them what's included in the quote and whether it includes things like permits and material purchases.
Once you have a sense of how much your basement renovation project will cost you, review your financial situation. See if you have enough in your savings to cover the renovation costs plus a contingency fund. If not, figure out how much you need to make up the difference.
Most people have two options when it comes to making up the difference in renovation costs: borrowing or saving up.
Borrowing ranges from asking family or friends for help to financing from the bank. For bank financing, you can often take advantage of a home equity line of credit (HELOC) or a traditional loan. You have to be careful though when you borrow money that you can realistically repay the debt plus interest. Remember that these payments would be on top of your major house and food expenses as well as savings contributions. Before you finalize a loan, you have to ask yourself if your current and future income can really take on the additional debt repayment expense.
Saving up money is a better option to make up the difference if you're not comfortable with borrowing. All it takes is some extra time, patience, and diligence. To find out how many months you need before you have enough money, divide the renovation cost difference by your monthly savings contribution amount. If the result is too many months for your liking, look for creative ways to either cut back your expenses or boost your income. Whatever you do, make sure you use foolproof ways like automatic monthly transfers to consistently contribute to your savings.
Keep in mind that budgeting doesn't stop after your renovation project has started. During the renovations, make sure you regularly keep track of how much of your budget is spent so far. You'll be able to see whether the renovation will go over-budget long before it actually happens. That will give you enough time to decide if you need to sacrifice some of the secondary "Nice-to-Have Features" you originally wanted.
Preparing for the renovation
The best seasons to complete basement renovations are in the summer and the fall. You avoid the mad construction scramble of spring and get to enjoy the cozy finished basement when the cold of winter rolls around. To make sure the work gets done in those seasons, make sure you book the general contractor you want for the job at least 3 to 6 months in advance.
Next, clear your personal schedule during the renovation so that you won't be out-of-town then. Don't book any vacations and avoid work travel during that period. This is so that you'll be available in case there are any issues while the renovation is going on.
When you first talk with your general contractor, find out their work preferences and what you can do to make their job easier. Something as simple as offering up your spare bathroom for crew use can make a big difference. This is also your opportunity to outline your own preferences such as communication channels.
Confirm whether the general contractor will look after getting the permit for the renovation. If not, start the process yourself right away. For Toronto and Mississauga residents, check out the bottom of this guide on what it takes to obtain permits for your basement renovation.
After the permit application is under way, notify your home insurance company about the upcoming renovation. Ask them whether the renovation will affect your insurance policy as well as what you should do before and after the renovation. As you get closer to the renovation start date, make sure everything is in order with your permit and your home insurance company.
Completely empty out your basement of everything, both large and small items. Use padded material to wrap up any fragile items you've carried out of your basement. It helps if you have a spare room to temporarily store the basement items. If not, try storing the items around low-traffic areas that won't get in the way of the renovation crew. You may even want to think about renting a temporary storage unit, if necessary.
Sweep out all the debris in the basement so that the renovation crew can start their work on a clean slate. Make sure you clear away a direct path from the entrance to the basement for the renovation crew. If there's anywhere in the house you don't want anyone to go through, run some tape across those areas and stick an "Off-Limits" sign to the tapes.
At this point, you should bring up the upcoming renovations with anyone who will be affected by it. For instance, discuss with your family how the renovation will affect everyone's daily routines and think of workarounds to the disruptions. Also, depending on your relationship with your neighbours, you may even want to give a heads-up as a courtesy to your neighbours that you'll be doing some renovations on your house soon. They'll appreciate this nice gesture and will probably be more accepting of the noise that's bound to happen during renovations.
This should cover your bases as you're planning your basement renovations.
Contact us so we can help you come up with a custom basement renovation plan!
What basement renovation design tips do you recommend?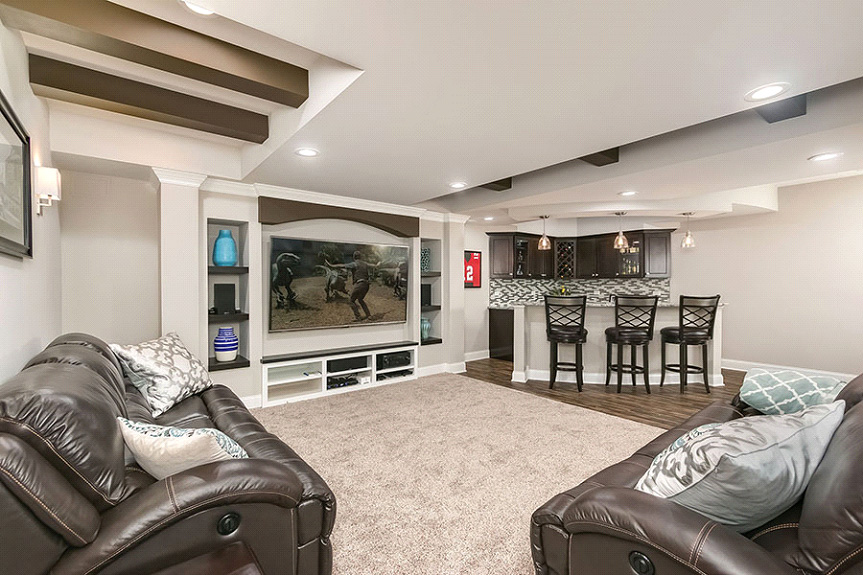 Practical space
For your own convenience and better future resale value of your home, you should transform your basement into a practical space. Here are some ideas:
Guest or in-law suite

Provides privacy for guests and relatives or rental income potential for homeowners.

Den or home theatre

Allows for TV screen to be the main focus of the room for a full cinematic experience.

Home office

Dedicated working space for side business at home.

Home gym

Personalized fitness centre without the commute and membership fees.

Playroom

Entertainment haven filled with toys and games for everyone from the kids to the grownups.

Multi-activity room

For large basement spaces, combine two or more of the above ideas.
Extra storage space
However you decide to design your finished basement, don't forget to add extra storage space. There are a lot of clever ways you can do that in a basement:
Deep shelving

Sturdy framing of 2-by-4s to stack large bins on.

Floor-to-ceiling cabinets

Neatly hide away miscellaneous items within pull-out drawers.

Cubby-hole shelving units

Display collectibles and memorabilia without sacrificing storage space.

Under-stairs storage closet

Making full use of an often neglected space as extra storage.

Partitioned storage room

Custom-designed storage that can be closed off when entertaining guests.

Wall storage

Wall-mounted organizers for hobby items and supplies.

Locker row

Safe and secure way to store expensive or delicate tools that you can lock up with peace of mind.

Furniture built-in storage

Furniture with built-in drawers or chests to maximize storage options.
The sky is the limit when it comes to basements because it's an extra room that doesn't have to be reserved for a specific purpose like the other rooms in the house.
Contact us for our creative team to draw up your dream basement renovation design!
What common issues should be on a basement renovation checklist?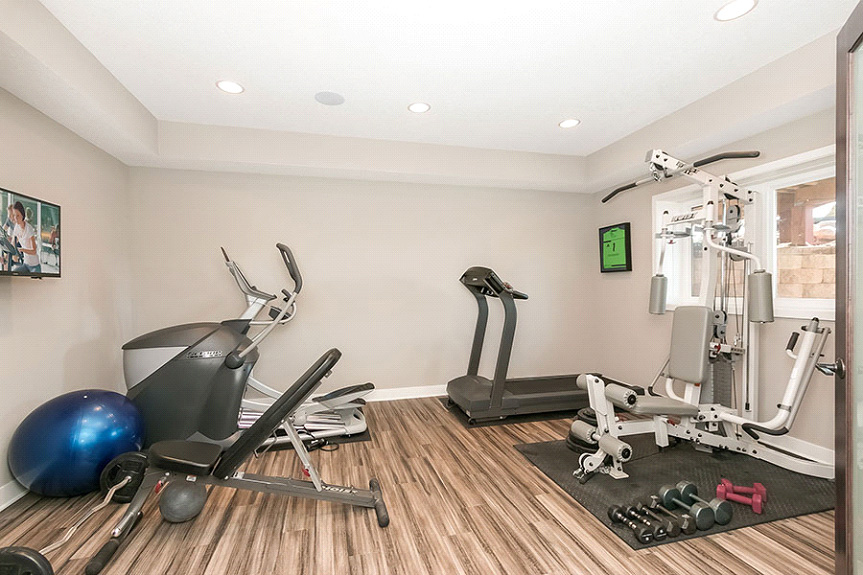 Turning your basement into a functional living area presents challenges since it's below ground level. From humidity to safety to climate control, there's a lot to think about as you balance all that with comfort.
That's why a basement renovation checklist is handy for making sure common issues in the basement are well taken care of. Here's a good start to the checklist:
Drainage
Waterproofing

Correctly installed vapour barriers and impervious subfloors

Proper egress

Exit window dimensions at least 18 inches each. Sill height should not be higher than 3 feet above the floor
Exit door dimensions at least 80×32 inches

Insulation

Rigid foam or spray foam behind walls
Spray foam behind ceiling (especially around rim joists)

Generous lighting

Both for functional and accent lights

Ceiling, walls, and flooring

At least 6'5" of ceiling clearance
Solid foundation support for main floor
Even and level flooring
Moisture-resistant and mould-resistant material only

Soundproofing
Your particular basement may also have unique issues that need to be added to the checklist. You should always consider the effects stemming from the age, materials, and environment of your house.
Contact us for expert advice on major basement renovation issues to check on!
How do I get a basement renovation permit in Toronto or Mississauga?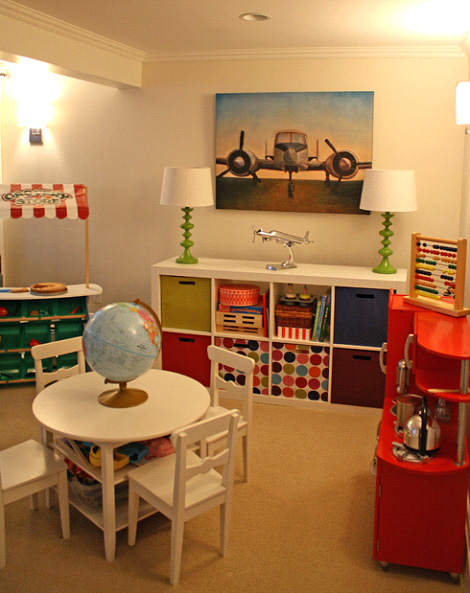 In general, it's best to let your general contracting company handle the basement renovation permit application for you. As a professional general contractor, they've done it countless of times and know the system well enough to streamline the process. If you're curious about the basement renovation permit requirements though, here are some general guidelines for Toronto and Mississauga:
For both Toronto and Mississauga, finished basement renovations are classified as "Interior Alterations" and these projects definitely require permits.
The Toronto "Interior Alterations" guidelines can be found here. You can apply for the permit either by email or in person at any Toronto Building Customer Service counter. As for the permit fees, they are changed regularly so the current fees should always be consulted. Their permit fees are categorized into different groups. Depending on the scope of your basement renovation, you may need to pay permit fees for Groups C, E, and F.
In Mississauga, permit applications have to be submitted through their ePLANS service. Make sure you refer to their guidelines and check out the most recent set of fees on their FAQ page.
Again though, you're probably better off leaving the permit application for your general contractor to take care of.
Contact us and we'll walk you through how we navigate through the basement renovation permit process!