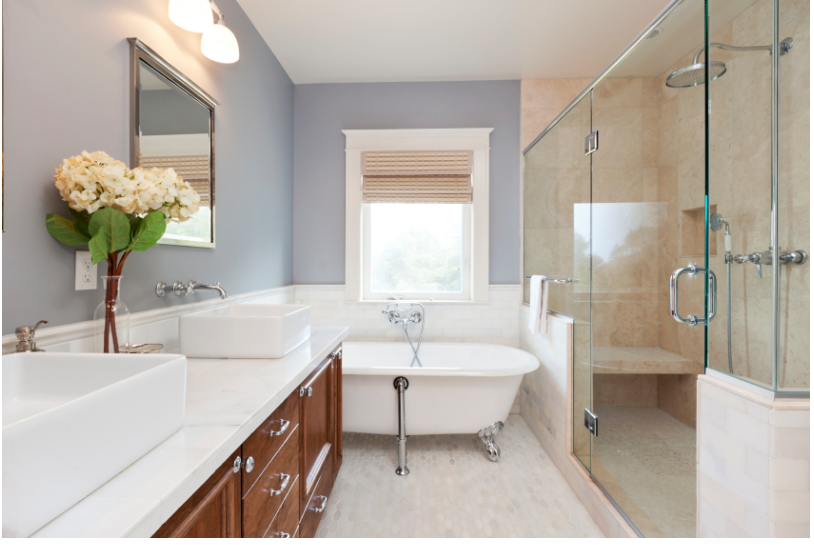 Designing the bathroom of your dreams is so much fun that it's easy to forget about what's involved behind-the-scenes to keep it watertight. A bathroom that's not waterproof is vulnerable to water damage and harmful mould. You definitely don't want to risk that. There was a 2007 study published in the American Journal of Public Health that found a connection between mold exposure and depression.
So, let's maintain your bathroom as the happy paradise it's meant to be. Here are 8 ways to do that:
Vapour barrier
A vapour barrier is a key part to waterproofing your bathroom. Where it's applied though depends on the climate you live in. Around Toronto and the GTA, winters here are a huge consideration. If you plan on completely gutting and renovating your bathroom walls, make sure to get it professionally done by a general contractor. That way, you'll get the right vapour barrier (e.g. polyethylene sheet or vapour-barrier paint) properly applied.
Tile walls
Tile backed by cement board is your best friend if you want a waterproof bathroom. At the very least, you should use tile around your shower or bathtub. Tile is water-resistant after it's sealed. This also makes future maintenance easy with only simple wipe-downs needed.
Cement board
For a non-tiled look in your bathroom though, it's important that you choose cement boards as the wall material – and maybe even for the ceiling portion above your shower or bathtub. Cement board is very durable and, above all, resistant to mould. It's designed for high-moisture areas like the bathroom. You can also paint it with any colour you like as long as a thin layer of plaster is applied over the cement board first.
Exhaust fan
Hot-shower aficionados will especially appreciate this when steam is quickly whisked away once they step out. This is a must to minimize the risk of prolonged humidity staying in the bathroom. Just be sure to check that the fan's edges and ductwork are well insulated.
Silicone caulking
Once the walls, shower, bathtub, and vanity are completed, apply silicone caulking to all the joints around them. Carefully clean the area first so that the silicone sticks properly. This will prevent water from getting into unseen gaps.
Waterproof paint
As soon as the walls and ceiling are completely dry (run a dehumidifier for a few days to make sure), you can use waterproof paint on them. Before slapping on the paint though, always put on a coat of primer first.
Water-resistant flooring
For the bathroom flooring material, you want to go with those that are water-resistant. This means either stone/ceramic tile or vinyl. Take the same care when you're choosing your baseboards as well.
Sealing the floor
With the flooring done, the final act of waterproofing lies in the sealing. Sweep away all traces of dust and dirt from the floor before sealing so that you get an even application. If you've chosen tile for your flooring, spend extra time on the grout lines as those are the likely places for water to seep through.
Now you can take that extra-long shower or languish for hours in a bubble bath, free of any worries. Let the winter blues run down the drain – and not behind the walls!